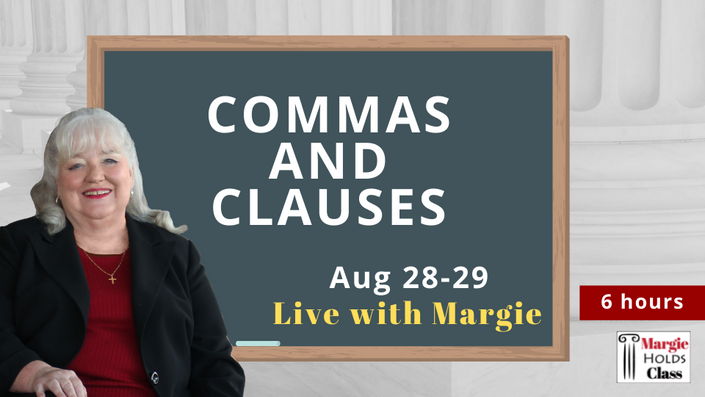 Commas and Clauses (Live)
Live with Margie Wakeman Wells
This is a LIVE course with Margie.
Congratulations on making the decision to further your journey into the English language. This course, along with "Commas Here, There, and Everywhere," offers an in-depth look at the comma rules in English from the viewpoint of transcript preparation. We can learn the basic rules, but applying them to the often fractured, nonstandard English used when someone is speaking becomes a more difficult task. Though there is value in any class that deals with the rules of punctuation, rather than a formal comma rule here and there, the goal of this class is to offer a more in-depth look at how to apply comma rules to the spoken word.
In this six-hour class, we will begin with a look at clauses, both independent and dependent; how they function in sentences; and how to use punctuation to make the meaning clear. Sentence analysis begins with looking closely at the structure of the language -- independent and dependent clauses.
This is crucial knowledge for every reporter, scopist, proofreader, teacher, and student. As a matter of fact, any person who deals with the language would benefit from this class.
August 28
8:00 to 10:00 Pacific time
10:30 to 12:00 Pacific time
August 29
12:00 to 1:30 Pacific time
2:00 to 3:00 Pacific time
CEUs
The course is a total of .6 CEUs, divided into four sessions on August 28-29. Completion certificates will be issued at the conclusion of the class. These certificates may be used for credits for national, state, or any other organization. (Understand that fees may be required by the organization for the filing.)
If you cannot attend a session and wish to receive CEUs, you must listen to the recording and write a detailed summary of the content to submit for credit. This summary must be submitted by September 10. This option is available for no more than one of the four sessions.
Access to the course will terminate on October 31.
Your Instructor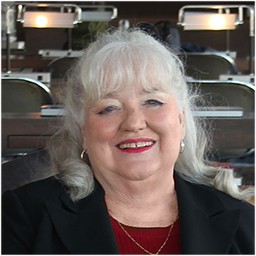 Margie Wakeman Wells is a lifetime credentialed teacher in the state of California and is certified as a CRI. She is in her sixth decade of teaching -- with 40 of those years in the field of court reporting. As a reporting instructor, she has taught from the theory level through the exit speeds as well as all manner of English courses – both on campus in a bricks and mortar school and online.

She has presented, under the auspices of NCRA and state court reporting organizations, over 300 seminars for reporters on English-related topics as well as seminars for teachers and students.
Court Reporting: Bad Grammar/Good Punctuation, her best-selling reference text, and the workbook that accompanies it are available at margieholdscourt.com. In addition, she has published Word Pares, Pears, Pairs, a reference work of 2,000 word pairs with definitions, examples, and idioms for the words, and is currently writing a grammar text. She has also written a drill book series for improving accuracy: Practice Really DOES Make Perfect.
Margie operates "Margie Holds Class," her online school, for both live and recorded classes and writes her blog, "All Things English," at margieholdscourt.com. Margie currently serves as the Education Liaison for the California Court Reporters Association.
Margie has two grown sons and lives with her husband, Bill, in Culver City, California.
This course is closed for enrollment.