This is a recorded-only format of the live sessions. No CEUs are offered.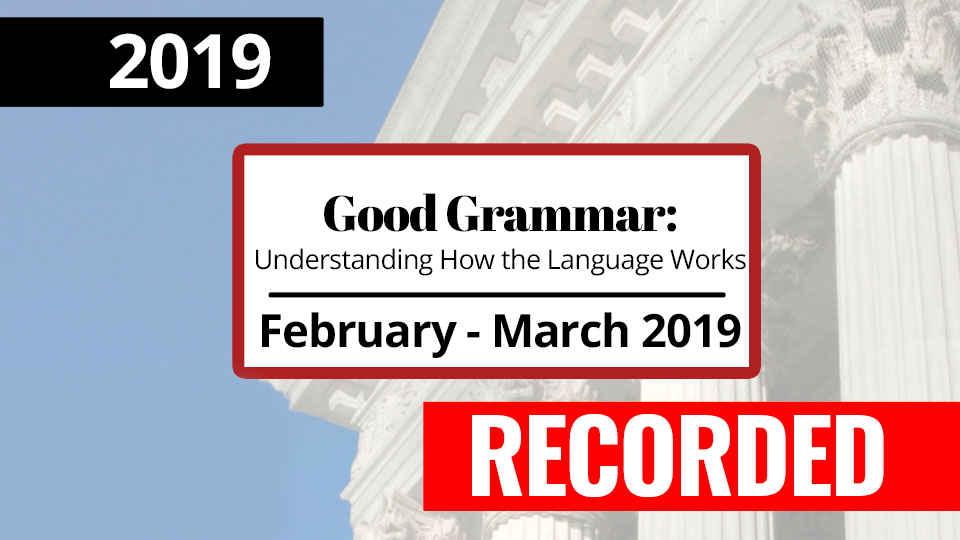 Congratulations on making the decision to increase your knowledge of English. As I keep saying, knowing how the language works makes everything about your job easier. Knowing grammar takes the drama from punctuating and producing a transcript. There is no question that grammar is where it all begins. And we are going to have such fun!!
Beginning with the opening session on February 2, this class will meet ten times on consecutive Saturdays and Sundays -- time out for the Super Bowl (February 2) and the Oscars (February 24) -- through March 10 for two hours each session. The meetings are on Saturday mornings from 8:30 to 10:30 Pacific time and/or on Sunday afternoons from 3:30 to 5:30 Pacific time. The schedule is posted below.
Class Format

The "live" sessions will be conducted via PowerPoint with handouts of the slides made available prior to the session. The classes will include question-and-answer sessions. Each class will be recorded, and enrolled students may listen to those recordings as many times as desired. The recordings will be available for one month after the last session of the class.

CEUs
CEUs are not available for the recorded-only sessions.

Recorded-Only Format
If you do not need CEUs and would rather listen to the material on your own schedule/time, this option is for you. We will post the recording from the "live" class session once the class has been given, which you may then listen to at your leisure and which will be available to you for one month after the last class session. No CEUs will be offered for this option.
Class Meeting Dates and Times
Recordings will be posted within 48 hours of the live sessions.
February

Session 1 -- Saturday, February 2
Session 2 -- Saturday, February 9
Session 3 -- Sunday, February 10
Session 4 -- Saturday, February 16
Session 5 -- Sunday, February 17
Session 6 -- Saturday, February 23
March

Session 7 -- Saturday, March 2
Session 8 -- Sunday, March 3
Session 9 -- Saturday, March 9
Session 10 -- Sunday, March 10
SATURDAY TIMES
8:30 to 10:30 A.M. Pacific
9:30 to 11:30 A.M. Mountain
10:30 A.M. to 12:30 P.M. Central
11:30 A.M. to 1:30 P.M. Eastern
SUNDAY TIMES
3:30 to 5:30 P.M. Pacific
4:30 to 6:30 P.M. Mountain
5:30 to 7:30 P.M. Central
6:30 to 8:30 P.M. Eastern
Your Instructor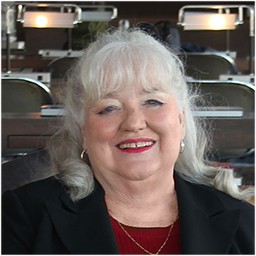 Margie Wakeman Wells is a lifetime credentialed teacher in the state of California and is certified as a CRI. She is in her sixth decade of teaching -- with 40 of those years in the field of court reporting. As a reporting instructor, she has taught from the theory level through the exit speeds as well as all manner of English courses – both on campus in a bricks and mortar school and online.

She has presented, under the auspices of NCRA and state court reporting organizations, over 300 seminars for reporters on English-related topics as well as seminars for teachers and students.
Court Reporting: Bad Grammar/Good Punctuation, her best-selling reference text, and the workbook that accompanies it are available at margieholdscourt.com. In addition, she has published Word Pares, Pears, Pairs, a reference work of 2,000 word pairs with definitions, examples, and idioms for the words, and is currently writing a grammar text. She has also written a drill book series for improving accuracy: Practice Really DOES Make Perfect.
Margie operates "Margie Holds Class," her online school, for both live and recorded classes and writes her blog, "All Things English," at margieholdscourt.com. Margie currently serves as the Education Liaison for the California Court Reporters Association.
Margie has two grown sons and lives with her husband, Bill, in Culver City, California.
Frequently Asked Questions
Is there a preferred browser for the class?
We use two different platforms for our school - Teachable and eLecta Live. They are both web based and work with both PC and Mac. Most web browsers work just fine, but you may need to be prepared to try what works for you. We have reportedly had good luck with Chrome and Firefox.
Will I be able to log in on my iPad or smartphone?
Yes. The Teachable platform is a fully responsive web interface and works well with desktops and all mobile devices. For eLecta Live sessions, there are mobile apps available for iOS and Android devices.
Do I need a microphone?
No. As a matter of fact, you will not be using a microphone at all. Because of problems with the audio when several microphones are on, we will disable all microphones (except mine) during the sessions.
Are there books I need for this class?
It is strongly recommended, though not required, that you purchase "Court Reporting: Bad Grammar/Good Punctuation" and the accompanying workbook. Assignments will be made from both the text and workbook throughout the course. They are available at margieholdscourt.com.
What if I have technical issues/questions?
You can contact support for tech questions, including forgotten user ID and/or password, by using the green "Support" portal on the lower right of the site. Although we aim to respond quickly, please allow up to 48 hours for a response.
What if I have connection issues during a session?
It is sometimes the case that a person will be thrown out of the course while it is in progress. Usually you can log back in and be okay. It is often helpful to log completely out or even reboot your computer before attempting to reenter the class. If all else fails, the class will be recorded so that you do not completely miss the material.
Is it mandatory that I print the handouts of the slides?
It is absolutely not mandatory. It is entirely up to you. The handouts of the slides are provided in three forms for your convenience: printed one to a page, three to a page, and printed six to a page. The three-to-a-page formats provides lines on the right for you to take notes; the six-to-a-page format does not allow space for much note taking but does give you a way to follow along. The one-to-a-page format is suitable for a tablet.
What if I cannot make it to a session and am absent?
If you cannot attend a class, there will be a recording of the class that will be posted no more than 48 hours after the class ends. If you want CEUs for that class session, you must write a detailed summary of the content and submit it within two weeks of the date of the missed class. (This may be done for only three of the ten sessions. The other seven sessions must be attended live.)
What if I have a question while I am studying/reviewing the material?
You can always email a content question to me at mww@margieholdscourt.com or send a question through Margie Holds Court on Facebook Messenger.. Although I will try to answer your questions in a timely fashion, please allow up to 48 hours for me to respond.
What if something happens and I cannot complete the course?
We do not issue refunds but will offer you a spot in the next class that is offered. Emergency issues will be handled on an individual basis.
Get 10 percent OFF this course! Join Margie Rules!
Access to a private Facebook group, "Margie Rules," where you can ask Margie questions and interact with fellow subscribers
Early access to monthly FREE courses
FREE monthly Q&A session LIVE online with Margie
10 percent OFF all Margie products (online courses, books, webinars)