This course offers a replay of the live sessions.
There are NO CEUs offered for this course.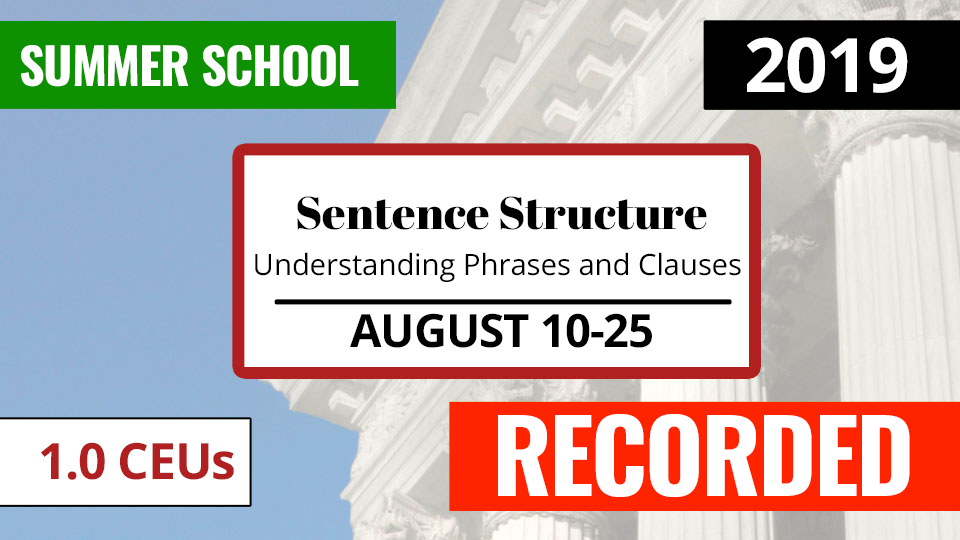 Course Description -- Sentence Structure
This course is perhaps the most important one that I teach. Understanding phrases and clauses and how they go together to form sentences is the base of all punctuation. This is where it begins; this is the framework of the language.
In this ten-hour class, we will begin with a look at parts of speech and sentences and fragments and conjunction and then move to a discussion of the language elements: words, phrases, and clauses. Is it a phrase or a clause? We will move from there to an in-depth look at clauses: what they are and how they are punctuated.
This is a crucial class for every reporter, scopist, proofreader, teacher, and student who wants to understand how the language works. As a matter of fact, every person who deals with the language would benefit from this class.

Check the "Class Schedule" tab for the dates and times.
We are using a platform called e-Lecta for the live lectures. You will need to download e-Lecta. Check out "Installing the Software" under the "Welcome" tab. There will be a link right here on this site for you to follow each week to get into the live class. e-Lecta will be open a half hour before each class.
You will not need a microphone. If you have questions, you will do so in written form in the chat area of the site.
I will use PowerPoint as the vehicle for teaching the class. Before each class session, you will have access to handouts of the slides for the session. They are printed with three slides to a page, which come with lines next to each slide for purposes of notetaking, or printed six to a page, which saves paper but does not offer much space to take notes.
If you want to use an iPad to take notes, there are instructions on the site, and the slides are offered one slide to a page.
In whatever form you choose, you will save paper by printing the pages back to back. There are many, many pages of these handouts. Whether or not you choose to print the handouts is entirely up to you.
Your Instructor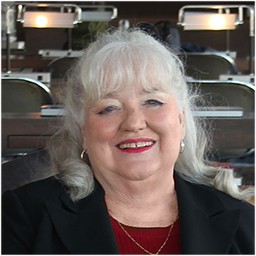 Margie Wakeman Wells is a lifetime credentialed teacher in the state of California and is certified as a CRI. She is in her sixth decade of teaching -- with 40 of those years in the field of court reporting. As a reporting instructor, she has taught from the theory level through the exit speeds as well as all manner of English courses – both on campus in a bricks and mortar school and online.

She has presented, under the auspices of NCRA and state court reporting organizations, over 300 seminars for reporters on English-related topics as well as seminars for teachers and students.
Court Reporting: Bad Grammar/Good Punctuation, her best-selling reference text, and the workbook that accompanies it are available at margieholdscourt.com. In addition, she has published Word Pares, Pears, Pairs, a reference work of 2,000 word pairs with definitions, examples, and idioms for the words, and is currently writing a grammar text. She has also written a drill book series for improving accuracy: Practice Really DOES Make Perfect.
Margie operates "Margie Holds Class," her online school, for both live and recorded classes and writes her blog, "All Things English," at margieholdscourt.com. Margie currently serves as the Education Liaison for the California Court Reporters Association.
Margie has two grown sons and lives with her husband, Bill, in Culver City, California.
Course Curriculum
Welcome
Available in days
days after you enroll
Sentence Structure Class Details
Available in days
days after you enroll
Recorded Sessions
Available in days
days after you enroll